Books
"Roses Have Thorns. Encouragement for Evolving from Pain to Joy."
Also available from Amazon.com or your local book store.
The perfect book of hope at only $5.95, the original price plus S&H!!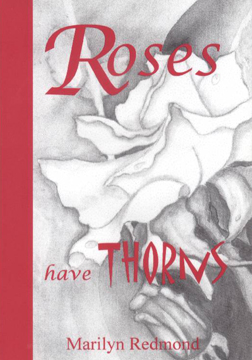 Order your signed copy NOW for the perfect gift book.
"Your poetry is still the best."
Helene Moore, author of
Behind the Mask
"I know there are others who struggle..it's so helpful to know someone who is also working it through. Marilyn helped me feel better and less alone, and that's a wonderful gift."
Robert Grant, speaker and author of
Are We Listening to the Angels
, and
The Place We Call Home.
---
"Paradigm Busters - Reveiling the New You"
Coming Soon!
This is the book you have been waiting for. It shows you how to change your life and move into the awareness you really want. Each chapter provides the steps for growth and more awareness for happiness. Stories like yours show that you are not alone on your journey. You will enjoy the exercises, tools, charts, poems and more helpful aids in advancing on your spiritual trip.
Discover the dynamics of life and how to apply them. Are you ready to outgrow the victimization, passive behavior, and intimidation of your past? Do you want to stop being the belligerent, rebellious, bully? Is it time to end worry or guilt ruining your life? Maybe you are ready to find your new life style releasing the past. It is time to enjoy your life right now! This book offers the way to transform your life from a fearful one into loving situations.
Are medical concerns the focus of your life? Are you tired of always being sick? Are you ready to move into healthiness regardless of your family background or hereditary genes? Do you let a diagnosis be a lifetime sentence? Is it time to take responsibility for your life? Changing to positive attitudes and exploring an inner housecleaning from old ideas, your life will change around you.
Move from your old self into the loving, confident person you really are. Applying this book to your daily life offers better health, attitudes, and opportunities. It is never too late to have a great life and you deserve the best. Restore your happiness, confidence, and prosperity. You always are growing; it might as well be to develop yourself. Only you can do the job. Now is the time to move onward; the best is yet to come.
Reach Marilyn at 253-845-4907 or
E-mail Marilyn